Pest Control In Copley, OH
Most of the time, we don't think about pests; life has a way of keeping us busy. Unfortunately, the distractions of life can allow pest problems to spring up as if out of nowhere. For this reason, many Copley residents and business owners trust Summit County pest control to handle the task of pest management. Let's look at a few benefits that come with a well-constructed residential or commercial pest control plan. If you need immediate assistance with a pest problem in Copley, feel free to jump to our contact page and reach out to us.
Residential Pest Control In Copley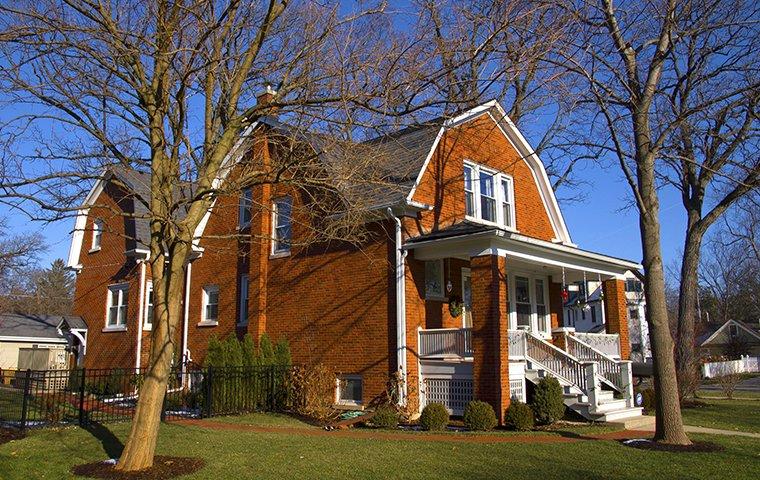 When you have a year-round pest control plan, you get routine visits from a pest management professional. During your service visits, your PMP will check for pest activity, evaluate conducive conditions, apply appropriate treatments, and address any warning signs.
Before pests get into your home, they show up in your yard. As an example, carpenter ants might start appearing in the perimeter next to your home and frass may be found underneath your deck. Your PMP can target these pests and eliminate the colony producing them. All of this happens on a routine basis.
Paper wasps might start to build a nest. These nests are addressed by your PMP and you don't have to worry about surprises during the year.
Spiders encroach upon your home. Your PMP knocks spider webs down and may clean surfaces to deter spiders from creating webs. Doing this has a big impact on spider populations around your home and sightings of spiders inside your home.
Throughout the years, pests can find ways to get into your home. Your PMP is likely to spray three feet up your exterior and three feet out from your exterior. These routine treatments work to keep pests out.
Sneaky pests, like subterranean termites, can start to damage your home without you knowing it. Your PMP can catch warning signs during service visits or install a professional-grade termite control product around your home to give you termite damage protection 24 hours a day, 365 days a year.
When you have a residential pest control plan, you can put pest control out of your mind. You have enough on your plate. Let the service team here at 1st Response Pest Management provide your Copley property with proactive pest management all year long.
Commercial Pest Control In Copley
In a commercial environment, there is no place for pests. There are far too many ways pest problems can harm your business. Unfortunately, it is easy to put pest control on the back burner, particularly if you run a business that is not in the food industry. Here are a few benefits to getting commercial pest control.
Every business can benefit from perimeter pest control. Routine treatments deter pests from getting inside. A program like this can help you retain good tenants, improve customer experience, reduce employee absenteeism, and improve the morale of your staff.
Routine inspections catch issues early and prevent unwanted encounters with pests, such as flies, ants, termites, cockroaches, and more.
Treatments around the exterior of your business keep destructive pests out, such as silverfish, carpet beetles, clothing moths, carpenter ants, and rodents. If your business is to store items for your customers, this kind of protection is essential.
No matter what your Copley business needs, the commercial IPM professionals here at 1st Response Pest Management have you covered. We understand your industry and your specific pest challenges. Reach out to us for a consultation.
Four Things Every Copley Homeowner Should Know About Fleas & Ticks
You know that fleas and ticks can harm your dog or cat. You know that they can bite people as well. Here are four things you may not know about fleas and ticks.
These pests can be managed by addressing wildlife activity around your home. Animals bring fleas and ticks near your home where they can get on your pets and get on you.
Birds can carry these pests. If you have bird feeders, you may be inviting a flea or tick problem.
Seasonal mosquito control works to knock down fleas and ticks.
Fleas and ticks can have an impact on human health.
You can get a one-time treatment for your property or add seasonal treatments to your year-round flea and tick control.
Having Cockroaches In Your Copley Home Is Worse Than You May Think
Roaches are pernicious pests. At 1st Response Pest Management, our quarterly service schedule needs to be increased to monthly service visits to address these pests. If you're considering DIY cockroach pest control, you should know that you're dealing with resilient and highly-mobile insects that reproduce surprisingly fast. You're also dealing with insects that can make you sick. Contact us to discuss options for the cockroaches you're dealing with in your Copley yard or home. We can guide you toward the right solution.
Request Your Free Custom Quote
Complete the form below to request your free quote.