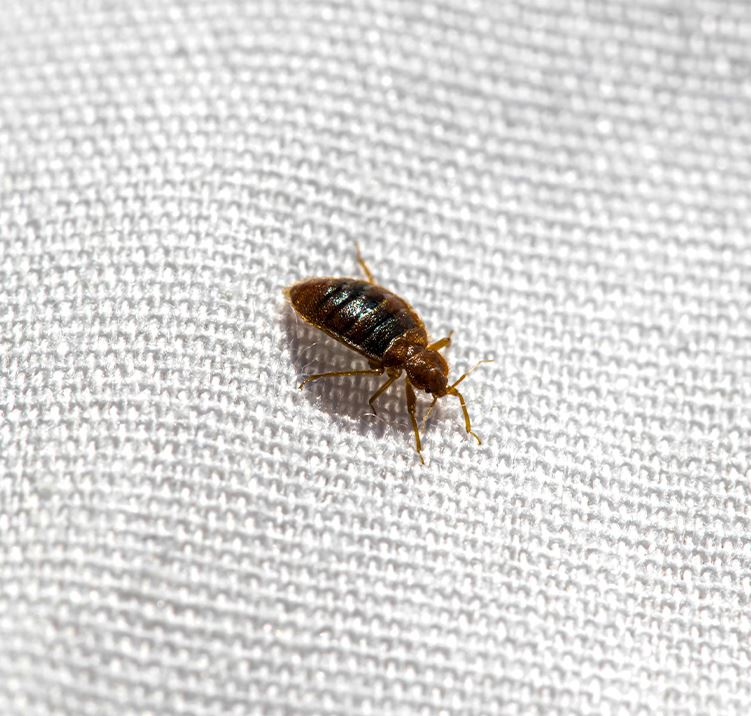 What are bed bugs?
Bed bugs are parasitic pests that feed on the blood of mammals as their sole source of food, with people being their favorite hosts. Bed bugs are a pest that no person wants to discover inside their home. However, keeping bed bugs out of our Columbus homes and businesses is easier said than done.
Adult bed bugs are about 1/4 of an inch long and are reddish-brown. They are wingless and do not jump. They move from place to place by crawling onto people or our belongings. They also move through walls and floors, making them a tricky pest to control in multi-unit buildings. Immature bed bugs (nymphs) look like adults, but are smaller and are a yellowish color until they start feeding. After feeding they turn bright red and become much easier to spot.
Are bed bugs dangerous?
Bed bugs are currently not thought to be a considerable health threat, although they can carry and transmit some disease-causing pathogens. These biting bugs are nuisance pests that should never live in our homes. To feed, bed bugs bite, and their bites produce a red, itchy rash in many people. Also, no one can sleep soundly while knowing bed bugs are living in their house and using them as a source of food. They are also a damaging pest. Bed bugs stain bedding, upholstered furniture, rugs, and walls with excrement and drops of blood.
Why do I have a bed bug problem?
While many people believe that bed bugs are associated with filth, the truth is that bed bugs can live in any home or business. Bed bugs are not drawn to filth, but rather to a place that allows them access to food. Clutter indeed allows bed bugs to hide out of sight and may allow an infestation to go undetected for a longer period.
People can come into contact with bed bugs in many places, from a friend's house to the airport and any place in between. Bed bugs are hitchhikers and move to new locations on people or their belongings. They also get into homes on things like used mattresses, box springs, and upholstered furniture.
Where will I find bed bugs?
Despite their name, bed bugs live in a variety of locations, not just in our bedrooms. Bed bugs are mostly active at night, emerging from their daytime hiding spots, which are usually close to sleeping areas where they feed. If an infestation goes unnoticed, bed bugs will increase in number and move throughout a home, invading multiple areas. Besides the seams of mattresses and box springs, bed bugs hide behind baseboards and wall hangings, in upholstered furniture and behind outlets, inside of electronics, and under piles of dirty laundry.
How do I get rid of bed bugs?
Get rid of bed bugs from your Ohio home or business by trusting the experts at 1st Response Pest Management. We are a locally-owned and family-operated pest control company. Our goal is to provide our customers with peace of mind and pest-free homes through our effective bed bug control services.
Learn more about protecting your Greater Columbus or Central Ohio area home or business from bed bugs and other pests with the help of 1st Response Pest Management and our eco-friendly approach to pest control. Reach out today and speak with one of our helpful professionals or learn more about our residential and commercial pest services!
How can I prevent bed bugs in the future?
Prevent problems with bed bugs by putting into place the following bed bug prevention measures:
Partner with the pest control experts here at 1st Response Pest Management.
Reduce hiding spots by placing bed bug-proof covers over mattresses and box springs.
Keep your home free of clutter where bed bugs can hide.
Avoid buying used mattresses, box springs, and furniture. If you do buy these things, use caution as there could be hitchhiking bed bugs inside.
Regularly vacuum your home and wash bedding on a high heat cycle.
When spending time in public places, traveling, or while at work or school, always keep your personal belongings away from other people. Also, keep personal belongings up off of the ground.
Contact Us Today!
We appreciate your interest in 1st Response Pest Management and are here to help. We service both commercial and residential properties in Powell, Ohio, and the surrounding communities. To ask a question or request a service appointment, please fill out the form below. We'll get back to you as quickly as possible!