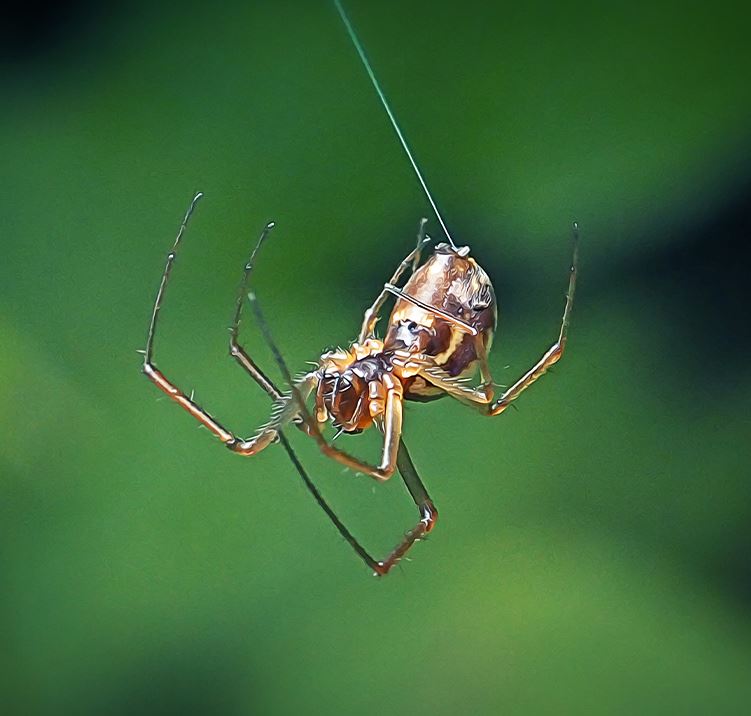 What are spiders?
Spiders belong to the arachnid group, and you can find them worldwide. With more than 3,000 species living in North American, spiders can become a significant pest problem in both Columbus homes and businesses. Spiders, like all arachnids, have two body segments, eight legs, are wingless, lack antennae, and cannot chew. Spiders are predators and feed on various nuisance insects like flies, moths, and other spiders.
Their feeding habits make them helpful and eco-friendly pests. Despite their helpfulness, no one wants to have large numbers of spiders living in their yard or home. Some of the most common species of spiders that invade properties in our area of Ohio include daddy long legs, wolf spiders, brown recluse spiders, and house spiders.
Are spiders dangerous?
Spiders, depending on their species, can be dangerous to people. Most species, however, are only nuisance pests because there are no significant health risks associated with their bites. Nuisance spiders like wolf spiders and house spiders have venom that is strong enough to subdue their prey but not strong enough to trigger health problems in people. In the case of daddy long legs, they are not "true" spiders, and they lack any venom glands, making them even less of a threat to people!
The brown recluse spider is a dangerous species in our area. If bitten by a brown recluse spider, you will experience an intense burning sensation. Their venom causes symptoms like fever, difficulty sleeping, and ulceration of the tissue around the bite site. The open ulcer is prone to infection and is difficult to heal. If a brown recluse spider ever bites you, you should seek medical attention to treat the symptoms.
Why do I have a spider problem?
Like all creatures, spiders look for properties that offer them plenty of food sources. For spiders, this means areas with high insect activity. Once on your property, they will build their webs or burrows in secluded spots in your yard. While they prefer to live outside, spiders move into homes and other buildings to seek a safe place to lay their eggs or follow the insects they prey on.
Where will I find spiders?
Where exactly spiders live depends on their species, as seen below.
Daddy long legs place their loose irregular-shaped webs in homes, barns, sheds, and other outbuildings. They construct their webs in areas with high humidity like the corners of eaves or basements, in crawl spaces, or around the corners in bathrooms.
Wolf spiders are not web-building spiders; instead, they burrow in the ground, and therefore whether living inside or out, stay at ground level. Outside they burrow under rocks, woodpiles, landscape timbers, and fallen trees. Inside, you'll find them on the floor along walls, under furniture, and in the bottom of closets.
Brown recluse spiders like to build their irregular webs in dark, quiet areas. They use their webs as a place to rest, not to catch food. Outside, they place their webs in rock piles, woodpiles, behind window shutters, and under fallen trees. Inside, they build their webs in quiet locations like storage boxes, basements, crawl spaces, and closets.
As their name describes, house spiders often find their way into our homes. Outside, they place their tangled webs under roof eaves, under decks, in dense vegetation, and gardens. Inside, you'll see their webs pop up daily in places like the corners of rooms, basements, closets, and around windows.
How do I get rid of spiders?
Get rid of spiders from your Ohio home or business by trusting the experts at 1st Response Pest Management. We are a locally-owned and family-operated pest control company. Our goal is to provide all our customers with peace of mind and pest-free homes and businesses through effective commercial and residential pest control services.
Learn more about protecting your Greater Columbus or Central Ohio area home or business from spiders and other pests with the help of 1st Response Pest Management and our eco-friendly approach to pest control. Reach out today and speak with one of our helpful professionals!
How can I prevent spiders in the future?
Prevent problems with spiders by putting into place the following spider prevention measures:
Partner with the pest control experts here at 1st Response Pest Management.
Replace white outdoor lightbulbs with yellow or LED bulbs that are less attractive to the insects that spiders like to eat.
Find and eliminate entry points into your home by placing weather stripping around doors and windows, installing door sweeps, and replacing torn screens.
Caulk any gaps in the foundation and exterior walls of your house.
Cut back tree branches, shrubs, and bushes away from the exterior of your home.
Remove excess debris and woodpiles from your yard.
Regularly vacuum your home, including under furniture and beds.
Quickly remove spider webs in your home.
Contact Us Today!
We appreciate your interest in 1st Response Pest Management and are here to help. We service both commercial and residential properties in Powell, Ohio, and the surrounding communities. To ask a question or request a service appointment, please fill out the form below. We'll get back to you as quickly as possible!