Hear It From Our Happy Customers!
Ron is AWESOME! I had a national pest extermination company for several years and nothing was getting accomplished. I have seen a significant decrease in the last several months that I started with 1st Response. Ron is very committed to getting the problem fixed and is very knowledgeable and a great guy! He knows his pests! :) Everyone at 1st Response is kind, courteous, and goes the extra yard!

Company was very responsive to the needs that I had. My daughters room had hornets coming thru her ceiling. First response was the best response. They came right away after my internet message. Fixed the problem and offered a great service for other rodents around my house. Monthly service is a great deal. These guys know customer service and they know pest control. If you are thinking about a company that cares….this is it. Make first response your first response if you are in need of help.

I live at The Gardens Apartments. I guess before I moved in, there was an issue with bugs. I never saw any. Thank God! But the gentleman from 1st Response saw something on the traps and came back several times to take care of the issue. He was always professional, polite and handled everything with care. Kudos!! I appreciate him and the service that you provide.

Had a great experience with David - he was polite, personable, and able to find where the mice were coming in within 5 minutes. He put all the traps down and followed up on time to ensure they didn't return - highly recommend them!

This company is great! The company I work for has been using them for years, and I have been using them recently for my home. David is so friendly when he comes in to my office, and Larry was great when he came to my home. Lisa is always the best too! So friendly on the phone!

We have a mouse or two and Larry was amazing. On time, professional. He even went into my attic through a very small, inconvenient entryway in the top of a closet. He educated me about mice and inspected every inch of my place, inside and out. The office staff was great, too!

We purchased a house that has had termite damage in the past. The original structure was built in 1890, and has been added onto over the years. Previous owners had repaired the termite damage, and had contracted with 1st Response to continue to maintain termite control stations and inspect for any new activity. We have continued with that existing service since purchase. Every tech that comes out is wonderful. Office staff is great as well. Everyone we have dealt with has been personable, kind, attentive and professional. Jason and Justin have been our most recent techs, and they are both great guys.

Best customer service ever! From the dispatcher to the technicians. They were super kind and accommodating to our health needs, more than willing to wear an N95 mask that we provided. Engaging conversation and thorough inspection. Even when 1 thing was missed, they apologized and made everything right. Their service was fast, but effective. The price is reasonable for all of the services you get and they were very understanding and accommodating when it came to the initial payment. I wish we had found them years ago, but if anything good can come from a mouse, it's having First Response on your side. 100%, 10 out of 10, highly recommend!

Holy smokes! They are the best! Like seriously, if you need creepy crawly help or help with other things that scurry about, they are your people. They are incredibly kind, friendly, and understanding. They have a lot of patience and explain things thoroughly. Can't say enough good things about them. We have been using them for a couple years now and have had continued reliable and excellent service.
Columbus Rat Exterminator
Why are Rats Dangerous?
First and foremost, rats are considered a dangerous pest because they carry potential health risks. They can spread serious diseases and parasites such as Salmonella, Leptospirosis, Hantavirus Pulmonary Syndrome, and Rat-Bite Fever through their saliva, feces, and urine. They also contaminate food sources that could result in food poisoning or allergic reactions.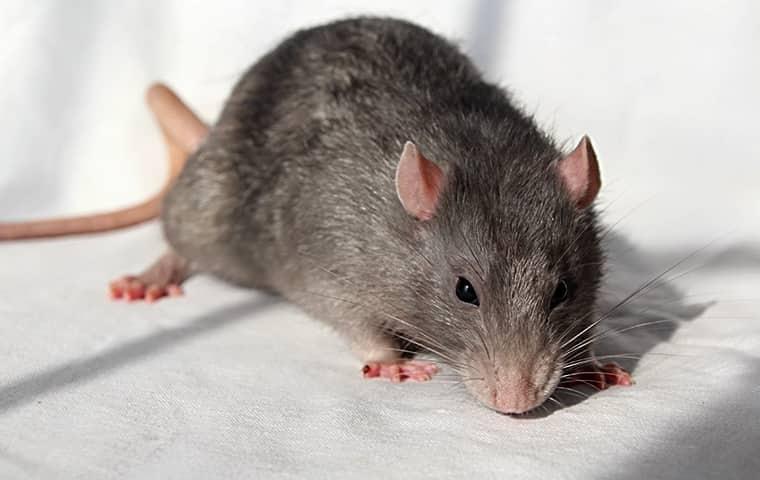 Furthermore, rats can cause structural damage to homes by chewing through electrical wires, walls, ceilings, and floors. Lastly, they pose a fire hazard due to the ability to gnaw into cables which could potentially spark an electrical fire in your home.
Can I Get Rid of Rats Myself?
It is possible to get rid of rats yourself, but it's important to understand that this requires a lot of time, patience and effort. It's also considered more difficult than getting rid of other kinds of pests because rats are always on the lookout for new sources of food and shelter.
To help prevent further infestations, you'll need to do your best to identify entry points around your home where rodents or their droppings could be found. You should then seal off any holes so they can't enter again. Additionally, you should remove all potential food sources like open bags of pet food or exposed trash that may attract them. Finally, you can set traps in areas where signs have been spotted and routinely inspect them for captured rats before disposing properly.
It is strongly recommended that if all else fails, you should hire a professional pest control service like 1st Response Pest Management. Our professionals have access to the most advanced and effective treatments available today in order to achieve the complete eradication of rats from your home.
Experienced Mouse Exterminator in Columbus
Why Mice Infestations Need to Be Treated ASAP
Mice are capable of reproducing quickly, with some species reaching sexual maturity in as little as six weeks. Female mice can have several litters each year, with the number of pups per litter ranging from two to 15. The gestation period for a mouse is only about 19–21 days long, which means that a female mouse can produce up to 20 baby mice in one single year! In optimal conditions and with an adequate food supply, a single female mouse and its offspring could theoretically produce up to 200 mice in just one year.
Because just a couple of mice could grow exponentially in a very short time, it's critical that infestations are tackled without delay. Contact 1st Response Pest Management at the first sign of a mouse problem and our Columbus rodent exterminators will put together an effective plan to get rid of the mice and keep them from returning.
How to Keep Mice Out of Your House
One of the best ways to keep mice out of your house is to make sure that it is structurally sound. This means sealing up any small cracks or holes that a mouse would be able to make its way through. Make sure windows and doors close tightly, caulk any gaps around pipes, and check for any other openings in walls or baseboards.
It's also important to look for potential entry points outside of your home. Keep trees and shrubs trimmed away from your house, and cover any exposed vents with sturdy mesh screens. Look for places where wires enter the home and ensure there are no openings. Additionally, make sure all outdoor garbage cans have tight-fitting lids so mice can't access them.
Inside your home, you can take steps to remove any potential food sources that mice might find attractive. Seal up all food items in airtight containers, empty pet food bowls after every meal, and clean up any crumbs or spills immediately. Store food items in the refrigerator or pantry when possible, as this further reduces the risk of a mouse entering your home in search of food.
Finally, use traps if necessary. Mouse traps are generally effective when placed near entry points inside the house or along walls where mice like to travel. It's important to use traps properly though – place them away from children and pets; bait traps with peanut butter, cheese, dried fruit, chocolate chips or bacon; check traps often; and dispose of caught mice promptly.
Signs of a Rodent Problem
Signs of a rodent problem can include finding droppings in the home, hearing scurrying or squeaking sounds in the walls or attic, noticing gnaw marks on stored items or furniture, spotting burrows near the foundation of your home, and detect a musty smell coming from those areas. Additionally, you may spot evidence that rodents have been stealing food from your pantry or kitchen counters. Rodents often leave smears of grease along their pathways as they travel around inside your home. If there is an excessive amount of insects present in certain areas of your house, it could be a sign that rodents are being attracted to those areas for food.
Quarterly Rodent Plan in Columbus, Ohio
To ensure that your home stays rodent-free year-round, 1st Response Pest Management offers a quarterly rodent plan. This plan includes four services per year, one in spring, summer, fall, and winter. Based out of Powell, we proudly serve the entire Columbus metro area.
Say Goodbye To Dangerous Rodents!
Rodents are not pests you want to ignore. When they get into your house, they'll not only cause many problems but will also increase their population rapidly. What starts as a manageable infestation will soon become overwhelming. Say goodbye to dangerous rodents as soon as you discover their presence with the help of the Columbus rodent control experts at 1st Response Pest Management.
---
Our rodent exterminators are ready to help you solve your rat or mouse problem. Call us today or contact us online to get started!
---
Contact Us
Today!
Request Your Free Custom Quote