Stinging Insect Identification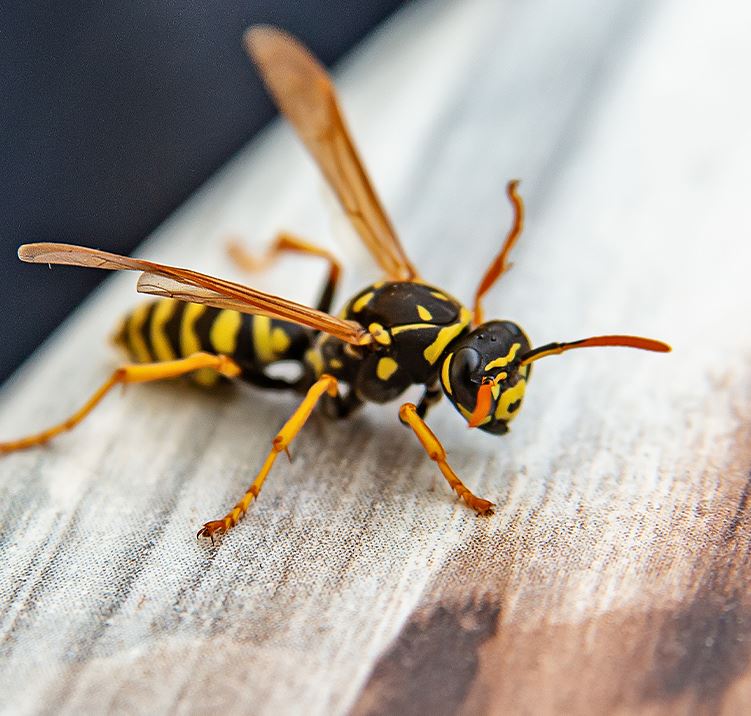 What are stinging insects?
Stinging insects use their stingers to defend themselves from danger and are pests that you should always avoid. When living outside in environments that are not near people, stinging insects are important to the ecosystem, pollinating plants, flowers, and crops. Those species that are predatory help to keep populations of nuisance insects under control. However, when stinging insects nest near people, they become unwanted pests. Yellow jackets, bald-faced hornets, inground digger wasps, mud daubers, and carpenter bees are stinging insects that live in our area of Ohio.
Are stinging insects dangerous?
Stinging insects possess venom strong enough to trigger health problems in people. In the case of an attack by multiple stinging insects or in people that are severely allergic to their venom, anaphylaxis may occur. In addition to their venom, their stings are painful and may leave behind long-lasting welts.
Why do I have a stinging insect problem?
Stinging insects are outdoor pests, meaning they may place their nests in any yard or other outdoor space. These insects forage for food in gardens, yards, wooded areas, and around ponds and lakes. They also look for food in our outdoor eating areas, trash cans, and compost bins.
Where will I find stinging insects?
Where stinging insects prefer to build their nests depends on their species. They are either aerial or ground nesters.
Yellow jackets place their nests in the ground — under woodpiles, fallen trees, in tree stumps, and the ground nests of other small animals.
Bald-faced hornets build paper nests and place them up off the ground. Common nesting sites include trees, utility poles, under roof eaves, chimneys, and decks.
Inground digger wasps place their nests in the ground, preferably in dry dirt in areas of direct sunlight.
Mud daubers construct their nests out of mud and connect many short mud tubes. They like to place their nests in sheltered areas. Popular nesting sites include areas under eaves, in barns, attics, and other outbuildings.
Carpenter Bees
Carpenter bees are solitary nesters. The females build their nests in unpainted, weathered pieces of wood — preferring softwood. Common carpenter bee nesting sites include fences, decks, wooden play structures, outdoor furniture, wood shingles, and roof eaves.
How do I get rid of stinging insects?
Get rid of stinging insects from your Ohio home or business by trusting the experts at 1st Response Pest Management. We are a locally-owned and family-operated pest control company. Our goal is to provide all our customers with peace of mind and pest-free homes and businesses through effective residential and commercial pest control services.
Learn more about protecting your Greater Columbus or Central Ohio area home or business from stinging insects and other pests with the help of 1st Response Pest Management and our eco-friendly approach to pest control. Reach out today and speak with one of our helpful professionals!
How can I prevent stinging insects in the future?
Prevent problems with stinging insects by putting into place the following stinging insect prevention measures:
Partner with the pest control experts here at 1st Response Pest Management.
Don't overplant flowering vegetation on your property, especially near your home.
Remove fallen trees, tree stumps, old woodpiles, and other debris from your yard.
Fill any ground holes you find on your property.
Caulk any openings you find in your home's exterior walls.
Replace torn or loose window or door screens to keep stinging insects out of your home.
Keep tight-fitting lids on trash cans and compost bins and keep outdoor eating areas clean and free of food debris.
Contact Us Today!
We appreciate your interest in 1st Response Pest Management and are here to help. We service both commercial and residential properties in Powell, Ohio, and the surrounding communities. To ask a question or request a service appointment, please fill out the form below. We'll get back to you as quickly as possible!