The Trouble With Bed Bugs In Powell, OH
Bed bug infestations have increasingly become a major challenge in recent years, and no home is immune. While no one likes the idea of any bug getting into their house, the thought of a bed bug infestation is disconcerting. They get into the place you're supposed to feel most secure — your bed — and feast on your blood while you sleep. When bed bug infestations occur in your Powell home, 1st Response Pest Management is here to eliminate them.
Our Bed Bug Control Process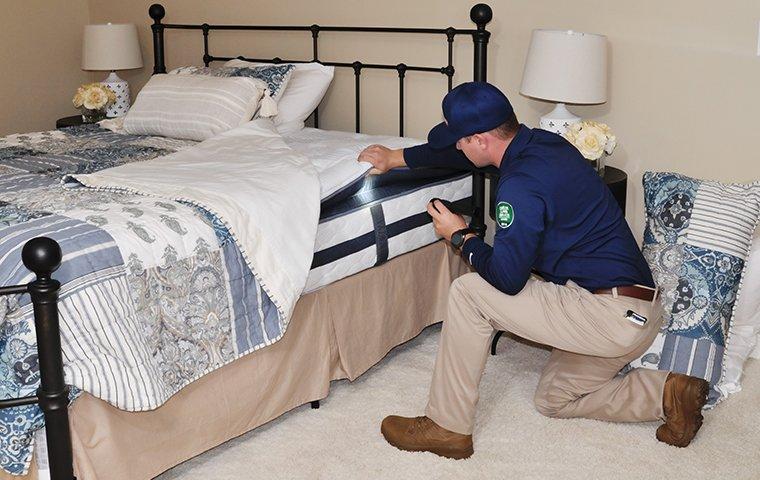 Free Inspections
If you think you have bed bugs in your Powell home, we'll begin by performing a free inspection. This inspection allows us to confirm their presence before moving forward with treatment. If we find bed bugs, we'll schedule a heat treatment and provide you with a prep sheet to complete before we arrive to perform the service.
Heat Treatment
1st Response Pest Management uses chemical-free heat treatments that are safe for your family and effectively eliminate bed bug infestations in just one treatment. When we arrive at your home, we'll confirm that you've completed everything on the prep sheet by doing a pre-treatment walk-through. Prep work includes taking out the trash, laundry prep, removing heat-sensitive items from your home, and more.
All family members and pets must vacate the house for the duration of the heat treatment. We'll heat your home to a predetermined temperature, then hold it there for several hours. Heat treatments take six to eight hours from start to finish.
Follow-Up
Three weeks after your treatment, we'll return to your home to perform another inspection. If any signs of bed bugs still present, we'll perform another heat treatment at no additional charge.
Safe & Effective Bed Bug Treatments
At 1st Response Pest Management, we offer chemical-free bed bug treatments that are safe for your family and pets and effectively eliminate bed bugs. If you suspect that bed bugs are in your Powell home, take quick action to stop them in their tracks by contacting 1st Response Pest Management today.
Request Your Free Custom Quote
Complete the form below to request your free quote.