What Are Fleas?
Fleas are a type of external parasite that feeds on the blood of people and animals. They are a pest that no one wants to discover on their Columbus property. Fleas are voracious eaters and consume more than 15 times their own body weight each day. Like many insects, adult fleas have 6 legs, antennae and are wingless. They are a reddish-brown color. When they're not using their powerful hind legs to jump out of sight, their small size makes people believe they are a fleck of dirt.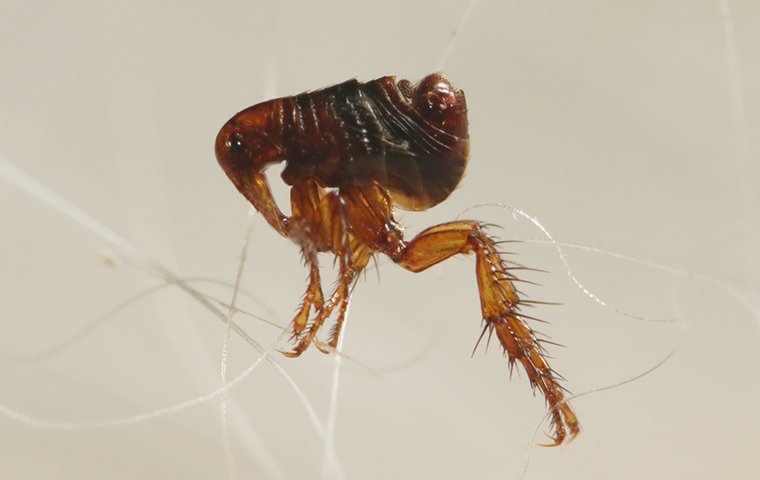 Are Fleas Dangerous?
Fleas can spread diseases to both people and animals. However, the spread of disease by fleas is not a huge concern in the United States. A larger worry when it comes to fleas is that they are intermediate hosts for tapeworms. These tapeworms can spread from fleas to both animals and people.
Less dangerous but incredibly irritating, fleas bite both humans and our pets, leaving us itching for days on end. Many people are allergic to their saliva, causing bites to become even more itchy and uncomfortable. Those that are very allergic may develop allergic dermatitis. Bites can also become infected due to excessive itching.
Why Do I Have A Flea Problem?
There are many reasons why fleas become a problem on properties. Whether you own pets or not, fleas have the potential to invade your yard or home.

Any park, campground, athletic field, yard, or other outdoor area has the potential to become infested with fleas. These are common places where both wild animals and pets come and go regularly. Fleas that have found their way onto your clothing or the backs of your pets will find their way into your home.
Fleas also hitchhike their way into homes or businesses inside of things like used furniture or rugs. They may move inside homes on the backs of rodents and other wild animals that have moved inside to nest.
Where Will I Find Fleas?
If you own pets, fleas will spend most of their time on their backs. After mating, their eggs will drop off their host and onto your furniture, rugs, or bedding. Fleas introduced onto your property by wild animals live in areas of shade and damp soil. They are commonly found in tall grass or under shrubs, leaf piles, and decks.
How Do I Get Rid Of Fleas?
Get rid of fleas from your Ohio home or business by trusting the experts at 1st Response Pest Management. We are a locally-owned and family-operated company. Our goal is to provide all our customers with peace of mind and pest-free homes. Learn more about protecting your Greater Columbus or Central Ohio area home or business from fleas and other pests with the help of 1st Response Pest Management. To find out about our eco-friendly approach to pest management, call today, and speak with one of our helpful professionals!
How Can I Prevent Fleas In The Future?
Prevent problems with fleas by putting into place the following flea prevention measures:
Vacuum floors, areas under furniture, upholstered furniture, mattresses, and the area where the floor meets the walls.
Change and wash bedding weekly, including pet bedding.
If possible, do not bring used upholstered furniture or rugs into your home.
If you own pets, regularly groom and bathe them using a flea-control shampoo.
With the help of your vet, place pets on a year-round flea preventative program.
Deter wild animals by removing bird or wild animal feeders from your property.
Keep grass cut short.
Remove leaf piles or other piles of organic debris from your yard.
Request Your Free Custom Quote
Complete the form below to request your free quote.