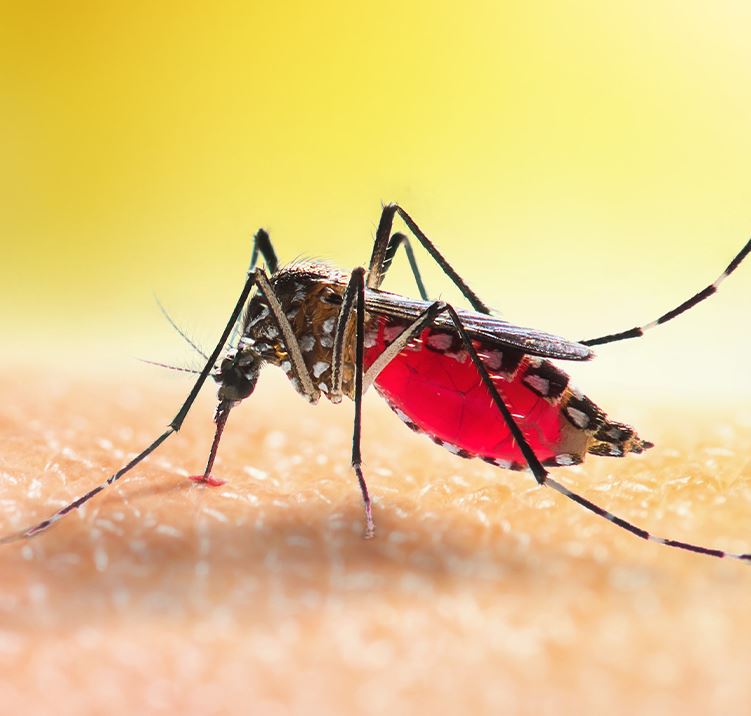 What are mosquitoes?
Mosquitoes are fly-like insects. Females lay their eggs in areas of standing water — this can range from a large pond to the top of a soda can with water around the rim; any area of standing water is a potential breeding site. Once the eggs hatch, the larvae stay in the water feeding on tiny organisms. After maturing, the now-adult mosquitoes leave the water to begin feeding and breeding.
An adult mosquito has a narrow oval-shaped body, long legs that hang down when in flight, and a long thin proboscis (nose) they use for feeding. Their one pair of wings has fine hair covering them. Most mosquitoes are black or dark brown with or without white markings.
Are mosquitoes dangerous?
Many, but not all, mosquitoes transmit illnesses that make people sick. Diseases mosquitoes spread include the West Nile virus and eastern equine encephalitis virus. The potential spread of diseases makes mosquitoes dangerous pests. Female mosquitoes feed on the blood of people and animals to get the protein needed to produce viable eggs. While feeding, they may spread disease-causing organisms.
All mosquitoes are a nuisance to deal with because of their relentless bites that are very itchy. Sometimes, the constant itching at the bite site leads to a secondary infection that needs treatment by a medical professional. Mosquitoes also spread parasitic heartworm to dogs. This parasite is fatal if not treated by a veterinarian.
Why do I have a mosquito problem?
Mosquitoes will take up residence on any Columbus property with suitable places to breed, rest, and feed. Females lay their eggs in standing water, vegetation in the water, on the ground in heavily wooded areas, inside tree cavities, and in areas that flood. Plant nectar is the primary food source for both male and female mosquitoes. Properties with lots of flowering vegetation are desirable to hungry mosquitoes.
Where will I find mosquitoes?
In our area of Ohio, mosquitoes are most active from late April through September at dawn and dusk. Mosquitoes breed best when the weather is hot and humid. Mosquitoes escape the heat of the day by resting in tall grass, dense vegetation, under trees, and along fence lines. Although mainly outdoor pests, sometimes mosquitoes get inside through open windows and doors while foraging for food.
How do I get rid of mosquitoes?
Reduce mosquito numbers on your Ohio property by trusting the experts at 1st Response Pest Management. We are a locally-owned and family-operated pest control company. Our goal is to provide all our customers with peace of mind and pest-free homes through effective mosquito control services.
Learn more about protecting your Greater Columbus or Central Ohio area home or business from mosquitoes and other pests with the help of 1st Response Pest Management and our eco-friendly approach to pest control. Reach out today and speak with one of our helpful professionals to learn more about our residential and commercial pest control services!
How can I prevent mosquitoes in the future?
Prevent problems with mosquitoes by putting into place the following mosquito prevention measures:
Partner with the pest control experts here at 1st Response Pest Management.
Get rid of as much standing water from your property as possible. Fill in low-lying areas in your yard and driveway.
Maintain gutters and downspouts to prevent water from pooling in them.
Store your buckets, flower pots, wheelbarrows, and other containers that collect water inside of storage buildings or upside down when not in use.
Keep your grass cut short.
Cut back overgrown vegetation and trees from the exterior of your house.
Keep doors and windows shut whenever possible.
Repair any loose or torn window or door screens to keep mosquitoes out of your home.
Wear mosquito repellent when you go outside in a mosquito-rich area.
Contact Us Today!
We appreciate your interest in 1st Response Pest Management and are here to help. We service both commercial and residential properties in Powell, Ohio, and the surrounding communities. To ask a question or request a service appointment, please fill out the form below. We'll get back to you as quickly as possible!