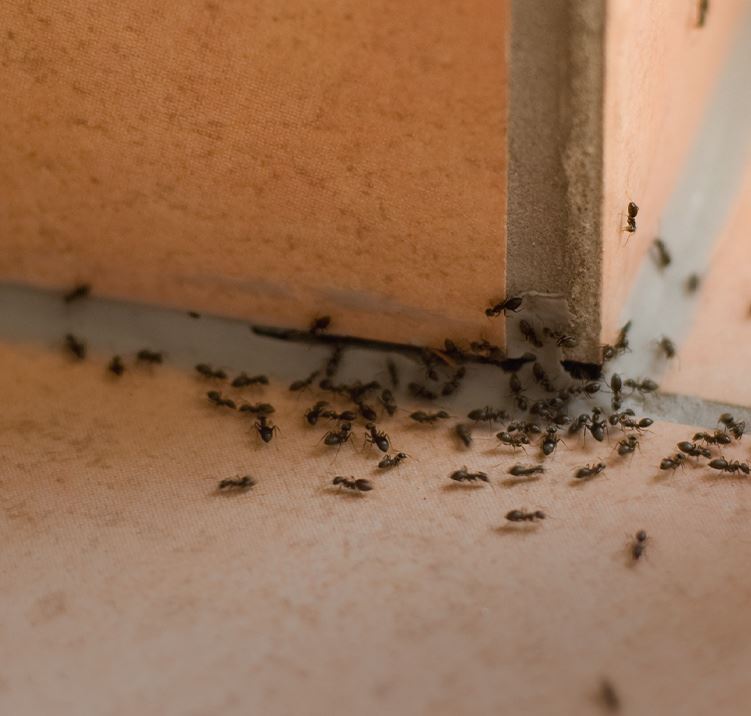 What are ants?
Being common pests that find their way into Ohio homes, ants are a pest that no one wants as a houseguest. They are social insects, living, working, and traveling together in large groups. All adult ants have six legs, three body regions, antennae, and strong, chewing mouthparts. Only the reproductive members of an ant colony have wings and are usually only seen in the spring when they emerge from their colony to find a mate and create a new nest and colony. Some of the most common ants living throughout Greater Columbus and Central Ohio include pavement ants, odorous house ants, Pharaoh ants, and carpenter ants
Are ants dangerous?
Ants can be dangerous, depending on their species. The carpenter ant is a dangerous species because of the significant and costly structural damage they cause inside the wooden structures they choose to nest. The pharaoh ant is another species of dangerous ant. They spread dangerous diseases and seek moisture inside IV lines and patients' wounds in hospitals and other healthcare facilities.
The good news is that most species of ants that we encounter and invade our homes are nuisance species and pose no significant health threats to people or property. However, it is important to understand that all species of ants can contaminate food and surfaces with bacteria and parasites that they carry on the body and legs.
Why do I have an ant problem?
Food attracts ants to properties. If there are food sources around your home, there is a high likelihood that ants will find their way onto your property. Trash, compost, and pet food are common sources of food for ants. They will also forage for food in gardens and outdoor eating areas. While searching for food or trying to escape harsh weather, they will often find their way inside through cracks and crevices in a home's foundation or exterior walls.
Where will I find ants?
Where ants decide to nest depends on their species. Each species has its own preferences, which are listed below:
As their name states, pavement ants like to place their nests in the soil next to foundations, in the crack of pavement and sidewalks, and along fence lines. Inside they like to nest in masonry walls, behind wall voids, inside insulation, and under floors.
Odorous house ants nest outside in areas of moist exposed soil, under fallen trees, or in stacks of firewood. Inside they like to nest near sources of moisture — behind walls near hot water pipes, leaky pipes, or in wood that termites have previously damaged.
Pharaoh ants prefer to nest inside. They are a common problem inside homes, hospitals, nursing homes, grocery stores, and food processing facilities. They place their nests in warm, humid areas behind walls, baseboards, and under floors and travel through buildings using wires and pipes.
Carpenter ants prefer to nest in wood that has been previously damaged by water. Outside they nest in tree stumps, fallen trees, woodpiles, and old fences. Inside they nest inside of water-damaged structural wood behind walls and under floors.
How do I get rid of ants?
Get rid of ants from your Ohio home or business by trusting 1st Response Pest Management experts. We are a locally-owned and family-operated pest control company. Our goal is to provide all our customers with peace of mind and pest-free homes and businesses through effective residential and commercial pest control services.
Learn more about protecting your Greater Columbus or Central Ohio area home or business from ants and other pests with the help of 1st Response Pest Management and our eco-friendly approach to pest management. Reach out today and speak with one of our helpful professionals!
How can I prevent ants in the future?
Prevent problems with ants by putting into place the following ant prevention measures:
Partner up with the pest control experts at 1st Response Pest Management.
Seal up cracks in the foundation of your house.
Make sure window and door screens are entirely intact.
Keep tight-fitting or locking lids on outdoor trash cans and compost bins.
Seal up cracks in the driveway.
Reduce moisture levels in and around your home.
Keep food in the refrigerator or airtight containers, not out in the open on counters or tables.
Contact Us Today!
We appreciate your interest in 1st Response Pest Management and are here to help. We service both commercial and residential properties in Powell, Ohio, and the surrounding communities. To ask a question or request a service appointment, please fill out the form below. We'll get back to you as quickly as possible!