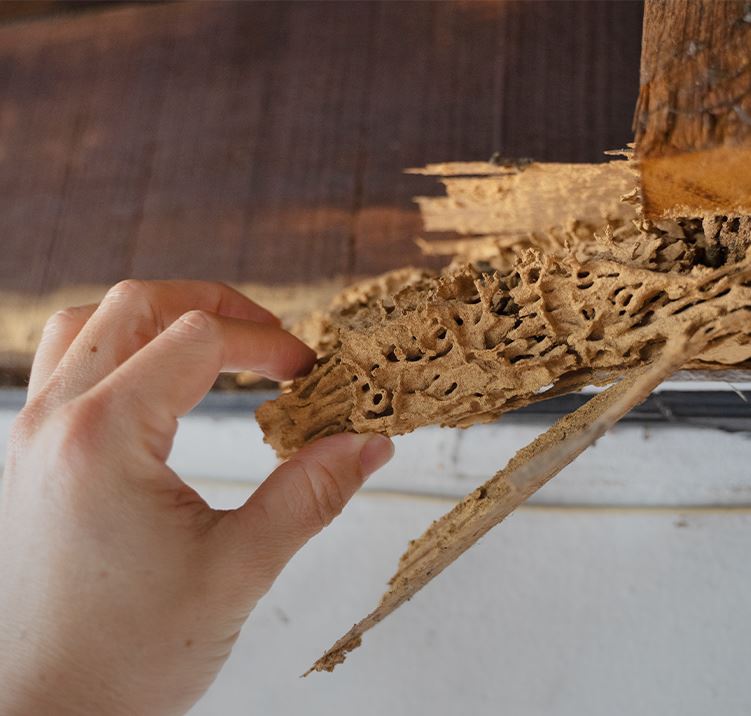 What are termites?
Termites are wood-destroying insects that feed on the cellulose found in wood and other organic matter. They have a special enzyme in their gut, which turns cellulose into usable sugar. Subterranean termites live and work together in large groups attacking decaying or water-damaged wood.
Eastern subterranean termites are one of the most widespread species of termites living throughout much of the country, including Ohio. Eastern subterranean termites create nests under the ground, moving back and forth from their nest to a food source each day. Termites don't require sleep and actively feed on wood 24/7 throughout the entire year. Eastern subterranean termites divide their colonies into different "castes" or groups (workers, soldiers, and reproductives), with each caste having its own set of responsibilities.
Are termites dangerous?
Termites are dangerous because they cause significant damage to the structures they invade. Because they can work for months or even years without being noticed, termites are a nightmare for Columbus homeowners. In most cases, they have already caused costly damage by the time you find them. And, to make matters worse, most homeowners insurance does not cover the repairs.
Why do I have a termite problem?
Like any pest, termites are on your property or in your home because it's offering them food. They move inside through small cracks they find in the foundation or through wooden structures making direct contact with the soil. Once inside, if they discover water-damaged wood, insulation, or other materials made of cellulose, they will gather it to feed their colony.
Where will I find termites?
Except for the reproductive termites that emerge from the nest each spring to mate, people rarely see or come into contact with termites. Termites feed on structural wood that is at ground level; however, as an infestation grows, they begin to attack wood beams and structures located above ceilings. Termites first attack pieces of wood that have been damaged by water located around pipes.
How do I get rid of termites?
Get rid of Eastern subterranean termites from your Ohio home or business by trusting the experts at 1st Response Pest Management. We are a locally-owned and family-operated pest control company. Our goal is to provide all our customers with peace of mind and pest-free homes using our effective termite control services.
Learn more about protecting your Greater Columbus or Central Ohio area home or business from Eastern subterranean termites and other pests with the help of 1st Response Pest Management and our eco-friendly approach to pest control. Reach out today and speak with one of our helpful professionals to learn more about our commercial and residential pest services!
How can I prevent termites in the future?
Prevent problems with termites by putting into place the following termite prevention measures:
Partner with the pest control experts here at 1st Response Pest Management.
Remove all wet, decaying, or dead pieces of wood or trees from your yard.
Create an 18-inch barrier between any mulch or soil and your foundation.
Replace any wood in your home damaged by water.
Use dehumidifiers to keep moisture levels low in your home.
Make sure crawlspaces are well-ventilated.
Fix any leaky pipes, faucets, or fixtures.
Seal up any cracks that form in the foundation of your house.
Place weather stripping around windows and doors and make sure gutters are in good working order to prevent water from seeping into the walls of your house.
Contact Us Today!
We appreciate your interest in 1st Response Pest Management and are here to help. We service both commercial and residential properties in Powell, Ohio, and the surrounding communities. To ask a question or request a service appointment, please fill out the form below. We'll get back to you as quickly as possible!