What Happens When Rodents Get Into Your Powell, OH Home
A rodent infestation might seem like something that's just a little gross and inconvenient. No one likes the thought of unwelcome animals running around in their house, making surprise appearances. However, there's far more to a rodent infestation than that.
Rodents can cause many problems for homeowners, such as spreading diseases through direct contact and contaminated droppings. They also cause serious damage to your home that can result in leaking pipes, fire hazards, mold issues, and more. Worse, rodents can bring parasites into your house. Eliminating a rodent infestation as soon as you become aware of it is imperative. 1st Response Pest Management can help.
Our Rodent Control Process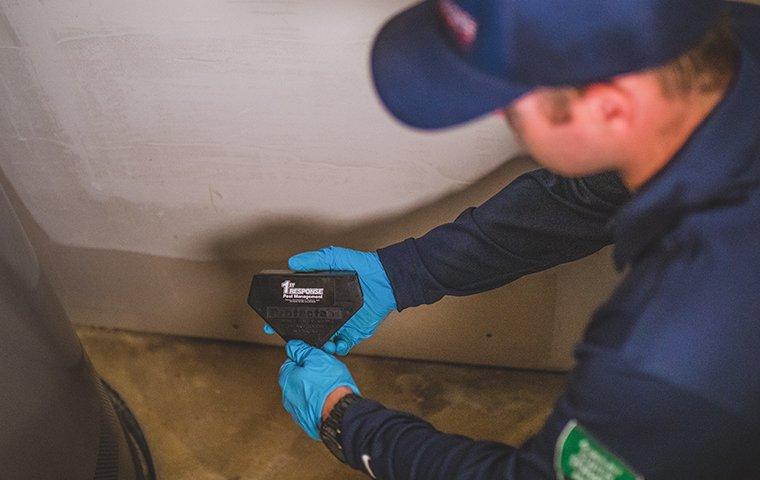 Inspection
We begin with a thorough examination of the interior and exterior of your home. Not only are we looking for the rodents themselves, but we also want to determine where they are nesting within your home and how they're getting inside.
Baiting
We use tamper-resistant bait stations to put an end to your rodent infestation. After completing our inspection, we will install these stations in safe areas for your family and most likely to eliminate the rodents. We will return to check on them in two weeks.
Exclusion Work
To stop rodents from getting into your house again once the initial infestation has been taken care of, you must seal up the entry points they use to get inside. 1st Response Pest Management provides ground-level exclusion work to seal entry points.
We also offer exclusion work around utilities, AC lines, gas lines, and cable lines, which come with a 30-day warranty. And, we install chimney caps and garage door weather stripping, which come with a one-year warranty.
Quarterly Rodent Plan
To ensure that your home stays rodent-free year-round, 1st Response Pest Management offers a quarterly rodent plan. This plan includes exterior service in the spring, summer, and fall, and interior service in the winter.
Say Goodbye To Dangerous Rodents!
Rodents are not pests you want to ignore. When they get into your house, they'll not only cause many problems but will also increase their population rapidly. What starts as a manageable infestation will soon become overwhelming. Say goodbye to dangerous rodents as soon as you discover their presence with the help of rodent control from 1st Response Pest Management.
Request Your Free Custom Quote
Complete the form below to request your free quote.